USDA Smoked Brisket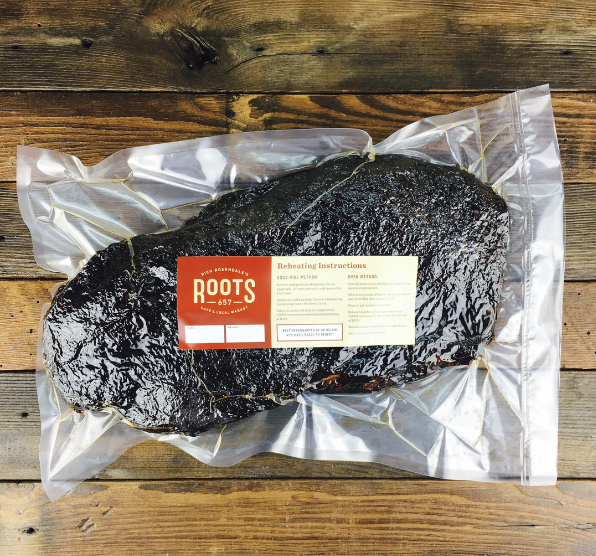 Indulge in the unforgettable flavors of our renowned Roots Brisket. Impeccably prepared, vacuum-sealed, and flash-frozen, this brisket is a true culinary delight suitable for any occasion. Whether you're searching for a thoughtful gift, a centerpiece for holiday feasts, or simply a well-deserved treat, our Roots Brisket delivers an extraordinary experience.
Every brisket undergoes an 18-hour low temperature cooking process, ensuring optimal tenderness and freshness. To enhance its rich smoky profile, we meticulously smoke each brisket with shagbark hickory, resulting in a robust and savory flavor that will captivate your taste buds. Rest assured, reheating instructions are thoughtfully provided for your utmost convenience.
Our Classic Brisket size is designed to satisfy 10-12 guests. Additionally, our Barbecue meats are all gluten-free, making them accessible to a wide range of dietary preferences.
Prepare to embark on a culinary journey with our iconic Roots Brisket, meticulously crafted to elevate your dining experience to new heights.
Ingredients:
Fully Cooked Ingredients:
Beef Brisket, Spice Rub (Kosher Salt, Granulated Sugar, Chili Powder, Paprika, Black Pepper, Granulated Garlic, Onion Powder, and other Spices).
Shipping:

Choose GROUND UPS shipping option if you reside in Virginia (VA), North Carolina (NC), Maryland (MD), New Jersey (NJ), or Pennsylvania (PA).
For those not living in the aforementioned states, please select either the 1-DAY or 2-DAY shipping option.
Our smoked meats arrive vacuum-sealed, frozen, and ready to reheat. Upon receiving your order, please place the items in your fridge or freezer. Orders ship in an insulated foam cooler box with dry ice and food-grade gel ice packs. We only ship smoked meats from Monday through Wednesday. Please order by 11 PM the evening before or up to six weeks before your desired shipping date.
Choose from FedEx Overnight (meat arrives partially frozen) or FedEx 2Day (mostly defrosted).   Packages can withstand transit times of 72 hours or more.

Each package of frozen meat comes with an expiration date approximately three months from the shipping date. Gel packs and dry ice may have melted upon arrival, but rest assured your meat will still be at a safe temperature. For orders to multiple locations, please place separate orders. For bulk orders, please email info@rosendalecollective.com. Please note we cannot ship side dishes or partial orders of briskets due to food safety laws.
 Frequently asked Questions: 
What should I do if my gel packs is melted?
If your gel packs is melted, it means they have successfully maintained the cool temperature of the meat during transit. The meat should still be cool to the touch and safe to consume.
Can I ship to multiple locations?
If you need to ship to multiple locations, we kindly request that you place a separate order for each destination. This ensures accurate delivery and allows us to maintain the quality of our products. For wholesale pricing on bulk orders, please email us at

 

info@rosendalecollective.com.
Do you ship sides and complimentary items like pickles and pickled onions?
Currently, we are unable to ship these signature items along with the meat. However, we focus on providing the highest quality meat products for your enjoyment.

Download Reheating Instructions HERE