Maryland Crab Soup, 35 LB CS -- 4 Bags/CS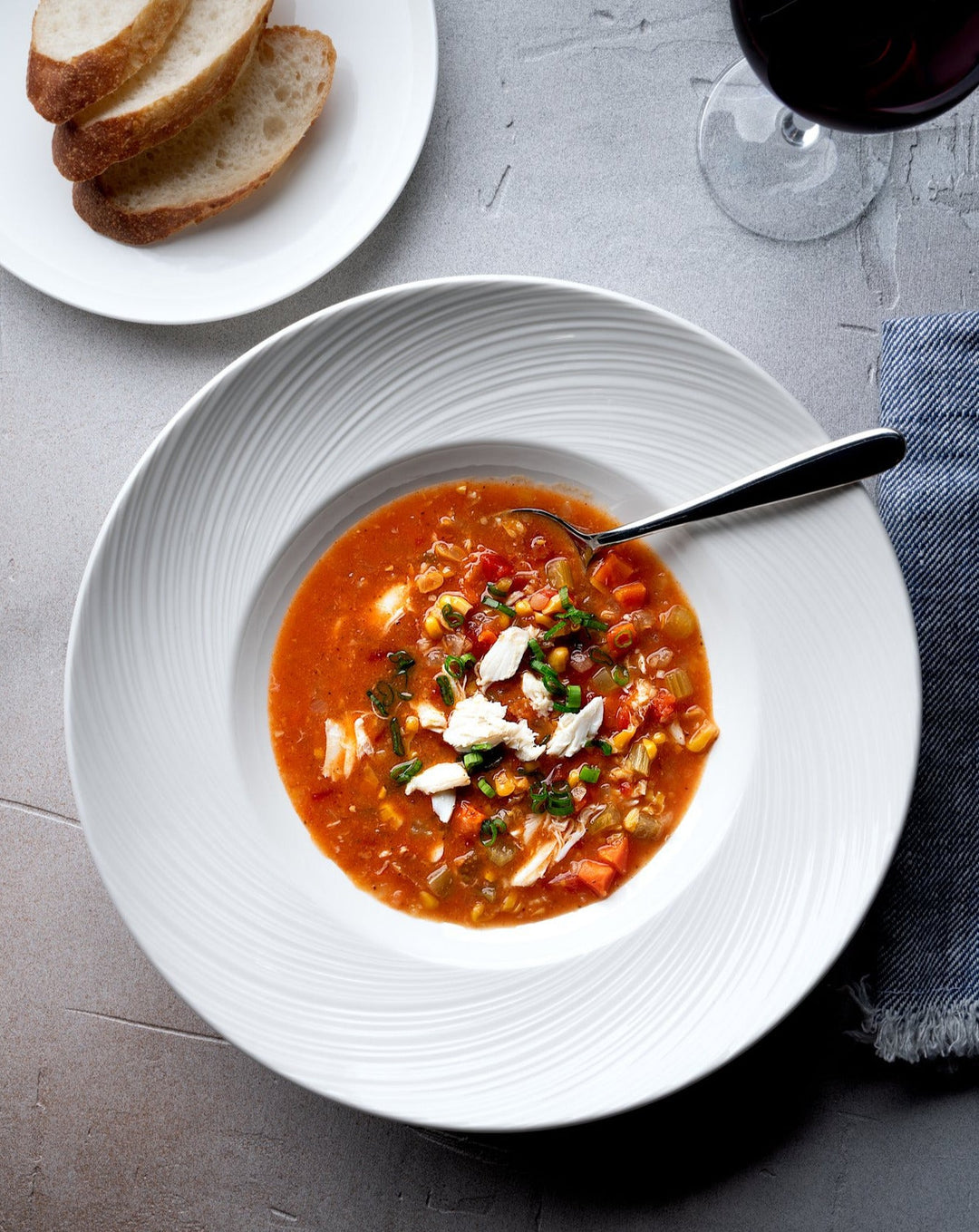 Product Description:
Transport your senses to the heart of Maryland with our Traditional Maryland-Style Crab Soup. Brimming with a bounty of garden-fresh vegetables like tomatoes, corn, onions, celery, and carrots, this soup is lovingly simmered in a rich crab-infused broth, artfully seasoned with the iconic Old Bay spice. A celebration of coastal cuisine, this soup is delivered without crab meat, allowing you the freedom to add your preferred amount, typically 1-2 oz. per cup, of fresh, succulent crab.
Product Details:
Our Maryland-Style Crab Soup is a testament to traditional Eastern Seaboard cuisine. The soup is teeming with fresh vegetables and simmered in a rich crab broth that's beautifully balanced with the complex flavors of Old Bay spice. The soup is sold without crab meat, giving you the flexibility to customize each serving with your choice of fresh crab.
Size: 4 1-Gallon bags - Ideal for catering events or family gatherings. Easy to reheat and serve.
Suggested Preparation: We recommend the addition of 1-2 oz. of fresh crab meat per cup. This allows for a personalized, gourmet touch to every serving.
Nutritional Information & Specifications: For detailed information on nutritional content and product specifications, please download the Nutritional Statement and Specifications HERE.
Dive into the rich flavors of the Eastern Seaboard with our Traditional Maryland-Style Crab Soup - a vibrant, flavorful testament to classic coastal cuisine.
Download Nutritional Statement and Specifications HERE
https://cdn.shopify.com/s/files/1/0274/5221/1286/files/RC_Lab_-_Maryland_Crab_Nutrition.pdf?v=1624540422